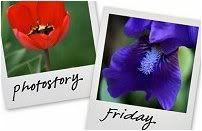 Hosted by Cecily and MamaGeek
When in England, the talk on a building site usually consisted of sport's scores, beer, what you were doing on the weekend, and celebrities (usually large-breasted female ones). All to the drone of traffic.
Well, the closest we come to that here is a neighbour chasing away a roaming cow from our plot whilst the stonemason comments on what a 'good looking cow' it was.
translated conversation
stonemason
: (looking underneath) ah nah, the udders are no good.
neighbour
: they're fine
stonemason
: they should be a good thumb's length (offering view of his thumb for reference)
neighbour
: nah, no need to be that long
stonemason
: (shaking head in disagreement)
stonemason
: 'spose you would get a good xkg amount out of her
neighbour
: yeah, yeah, organic, healthy, good quality meat
stonemason
: aha, aha
Cow's response: a bit personal isn't it.
There's no doubt where we are.