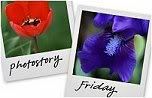 Hosted by Cecily and MamaGeek
There is a tradition in these parts when building a house that when you lay your foundations you slaughter a lamb or goat and feed the workers and anyone else you want to invite, usually neighbours. And then you slaughter another one for the first floor and then a final one for the roof. The boss brings in a man who acts as chef for the day. We, the landowners are to do nothing, until the final roast.
It has religious sacrificial overtones of course. They even try to slaughter it on your land, although it isn't necessary. The first lamb was. And I can see how it's a goodwill gesture as well. The workers are given good food, and the neighbours are appeased, until the next lamb at least. Let's face it, neighbours around a building project have to put up with noise and disruptions. And in a tiny village, noise carries.
It's a sacred and a social slaughter. Although there is no ceremony or fanfare. It's very grounded and matter-of-fact. Like,
of course
you slaughter a lamb stoopid.
It brings to mind the old pagan sacrifices for the land. Where blood is spilt in the fields, to appease whatever god is responsible for a bountiful harvest.
So we appease whatever gods/spirits/sprites/goblins/
wild boars
that might need appeasing...