While DIY Dad was clearing out the old barn, he disturbed a mama spider. Miffed, she carried her sack of 3million baby spiders to another, less noisy, spot.
Hundreds and hundreds of baby spiders that will one day be as big as mama (about 10cm across). Big, hairy spiders that we have no idea if they're dangerous or just bloody big.
The photo isn't as clear as it would have been had DIY Dad got up close and personal, rather than using intense zoom and perching high up on a stone. But see her lovely white sack of babies?
A couple of weeks back, he came face to face with a scorpion.
DIY Dad asked, "tell me again why we're moving into the mountains?"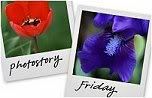 Hosted by Cecily and MamaGeek