Although we live in a very small town, we're fortunate to have an active international airport and larger town no more than 1.5hrs drive away.
Dubrovnik is a lovely town that sees thousands of tourists every year. But because I was pregnant and experienced extreme nausea, and then because we had two dogs that were killing each other, and then because I was heavily pregnant and on bedrest, and then because I had a newborn and recovering from surgery, and then because....
....so this lovely old city that was a mere stone's throw away, alluded me. But we finally made it across and took the little wildflower. At 6.5 months she's already an international globetrotter.
It's November and the weather is cool, but see how many tourists there still are back there? This is why we visit European cities out of season. I can't imagine being here during the scorching summer without any breathing space between multpile armpits.
Yet the sun was out and we were unrushed. We ate good pizza and ice-cream and strolled. It's a little too touristy for us. But we searched out the tiny hidden cobbled alleyways and streched our necks to view the crumbling architecture.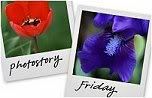 Hosted by Cecily and MamaGeek